In this post I'll gather together some AIO memes from the internet and from The AIO Hangout Discord server, as well as possibly some I made a few years ago. In this post I'll be focusing on still visual images, but I'm hoping to review some of what I'll call "AIO Audio Memes" in the future!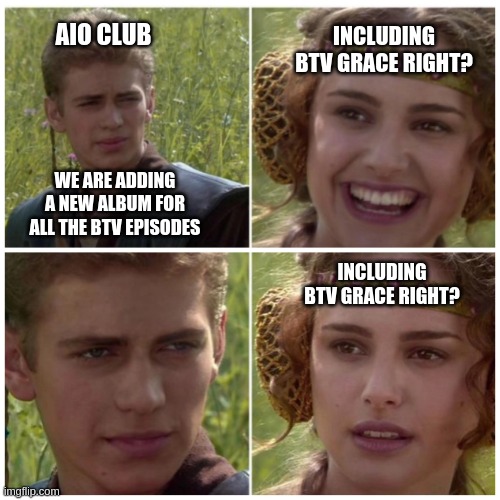 I'll give this one a 6/10 because it's pretty good, but it didn't have me rolling in laughter.
This one definitely deserves a 7/10 for relatability: it had me nodding and smiling.
This is a classic one, and I'll give it an 8/10 for the solid truth it delivers while remaining funny. I definitely laughed at this one when I first saw it.
This is another great meme that has you thinking "so tru(b)e, so tru(b)e". I'll give it a 7/10.
This one's gold, so, so true, and hilarious in my opinion. It easily gets a 9/10 as it's my favourite AIO tweet.
I think I'll give my own one here a 6/10. This clip is taken from a video on Kevin McCreary's YouTube channel, Say Goodnight Kevin.
Now I'm going to go over some of my cringey memes from 2019. I wish I could say I made them when I was about eleven years old, but really, I made them not too many months before starting Adventures in Opinions.
I'll give this one a 5/10, because in a lot of ways it represents the typical (sometimes more surface-level) AIO fan's preferences in episodes. It's definitely not one of the worse ones.
This one isn't even funny. I don't know what I was thinking when I made it. I'll give it a 3/10, because it's not a horrible thing, but it's not funny at all.
Even though it's not a typical use of this template, it's actually not that bad. Of my 2019 memes, it's one of my favourites though. It'll get a 5/10. It got me one of my few comments.
I remember making this one because I remembered a story about a movie being interrupted right before a big twist on The Inner Tube podcast. I'm giving this one a 3/10 because, if it did happen to you then this meme would be relatable and applicable, but to the typical AIO fan, this one won't be relatable.
If you enjoyed this post, and would like to see more meme reviews, and maybe an episode of AIO Audio Memes, let me know in the comments! And if you were subscribed to the blog I released these memes on back in the day, definitely contact me! You can email me at jay@aioopinions.com, or tweet at me @jay_smouse.